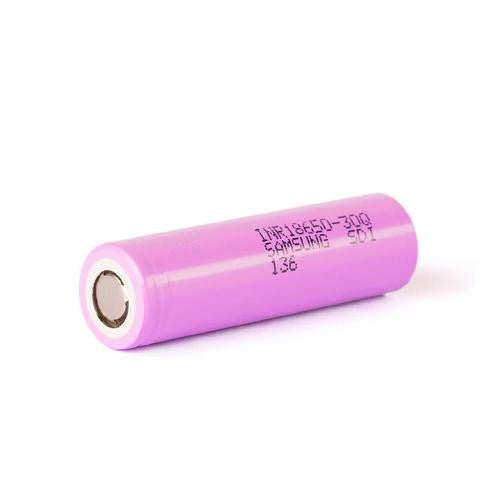 Samsung
30Q 18650 Battery Samsung
Hailed as one of the top 18650 batteries in the game today, the Samsung 30Q 18650 battery has a solid reputation as an overachiever. With an airtight and durable shrink wrap, the Samsung 30Q 3000mah battery fuels any mod needing high power and long lasting life.
These started shipping from Samsung mid-2015.  This is an amazing cell, extremely low internal resistance similar to the 25R but with a higher capacity of 3 Ah.  A great battery for 10-50W per battery devices.  As always, we've made sure these are authentic, so you can be confident you've got the real thing, grade A.  
This 18650 battery trumps most standard fare MOD Batteries. Get your Samsung 30Q INR18650 3000mAh Mod Battery now
Specs:
Chemistry:  INR
Max Continuous Discharging Current: 15A
Typical Capacity: 3000mAh

Style:  Flat top

Dimensions: 64.85 ± 0.15 mm (L) x 18.33 ± 0.07mm (D) 

Weight: 48g max

Discharge cut-off voltage: 2.5V


Internal resistance:  ~20 Ohm

Nominal Voltage: 3.6V

Full Charge Voltage: 4.2V ± 0.05V


Origin:  South Korea
Battery safety is very important.  Mistreated batteries can get extremely hot and/or vent which could cause injury.  Always follow the following rules to make sure this doesn't happen.  We are not liable for mistreated batteries.