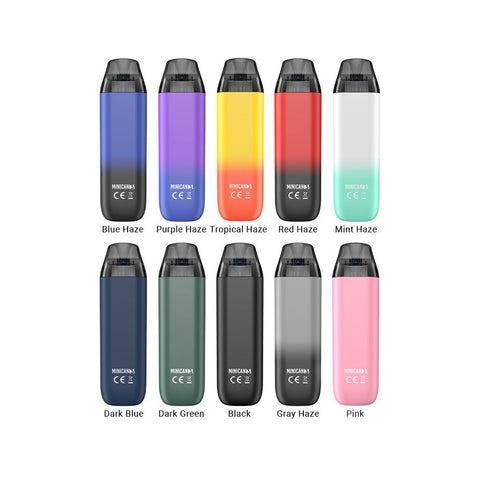 Aspire
Minican 3 Open Pod Kit 3mL [CRC Version]
Introducing the Aspire Minican 3, the latest addition to the renowned Minican series! This sleek and compact pod system is designed to deliver an exceptional Mouth To Lung vaping experience with its innovative features and user-friendly design.
The Minican 3 boasts a minimalist yet stylish design that fits comfortably in the palm of your hand. Its lightweight construction makes it incredibly portable, allowing you to enjoy your favourite e-liquids anywhere, anytime. Crafted with attention to detail, the device features a high-quality aluminium alloy chassis that ensures durability and longevity.
Equipped with a 700mAh built-in battery, the Minican 3 offers extended vaping sessions without compromising on performance. With its efficient power management system, you can enjoy consistent power output throughout each puff. The device supports fast charging, allowing you to recharge it quickly for minimal downtime.
The Minican 3 features a user-friendly draw-activated firing mechanism, eliminating the need for buttons and simplifying the vaping experience. Simply inhale, and the
With a wide range of compatible e-liquids, you can explore a variety of flavours and nicotine strengths to suit your preferences. Whether you enjoy a mouth-to-lung or a restricted direct-to-lung vaping style, the Minican 3 caters to your needs with its versatility.
Safety is a top priority for Aspire, and the Minican 3 comes equipped with a comprehensive set of protection features. These include short circuit protection, overheat protection, low voltage protection, and overcharge protection, ensuring a worry-free vaping experience.
In summary, the Aspire Minican 3 is a compact, reliable, and feature-packed pod system that combines style, performance, and convenience. Experience the pleasure of exceptional vaping with the Minican 3 and elevate your vaping journey to new heights. So why wait? Grab one today!
The built-in 700mAh battery will last you a full day of vaping with ease! Once dead, the battery can be recharged in under 30mins using the USB-C cable provided.
The simple and user-friendly design of the Minican 3 Pod Kit by Aspire creates a device that is unbelievably easy to use and maintain by every level of user.
Full of safety features, the Aspire Minican 3 Pod Kit will prevent any mishaps from happening. You can use it and rest assured that your daily companion is safe to use.
What's in the box?
1 x Aspire Minican 3 Device
1 x Aspire Minican 3 Pod
1 x Aspire Minican 0.8Ω Mesh Coil
1 x USB-C Cable
1 x User Manual
Dimensions: 96.2mm x 28.2mm x 15.6mm
Battery: Built-In 700mAh
E-Liquid Capacity: 2ml
Charging: 1A USB-C
Vape Style: MTL
Compatible Coils: Aspire Minican Coils
Compatible E-Liquids: Any containing 50% VG