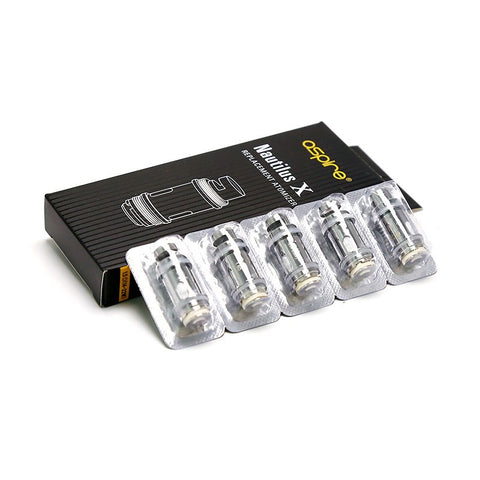 Aspire
Nautilus X Replacement Coils
The Aspire Nautilus X coils for the Nautilus X Tank feature the new U-Tech coil technology, which flows vapor through the U-shaped chamber & passes through the Kanthal coil twice before being inhaled. These replacement coils are exclusively designed for the Aspire Nautilus X tank.
Inside the Nautilus X atomizer are two vertical Clapton coils wrapped with organic cotton wick. As air is drawn through the tank airflow holes, it travels down to the first coil and back up the other coil in a U-shaped pattern. This configuration allows air to pass through the Kanthal coils twice, resulting in intense flavors released through the drip tip.
The Aspire Nautilus X coils currently come in 1.5ohm (rated at 14-22 watts) and 1.8ohm (rated at 12-16 watts).
Features:
Bold, intense flavors
Easy to replace
Top airflow
Advanced U-Tech coil technology
Dual vertical Clapton coils made of Kanthal
Large juice holes
Organic cotton wick
Compatible with high-VG liquids
Available in 1.8Ω and 1.5Ω resistances