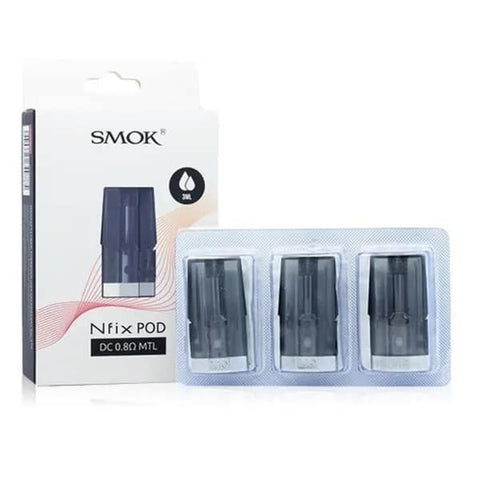 Smok
Nfix Replacement Pods ( Box of 3 pods.)
SMOK Nfix pods integrates all the best features of previous SMOK pods and adds more technology. There are four airflow slots on the pod, two in the middle and two on the bottom. From the middle the air flows downwards to the base of the coil, the bottom airflow slots provide air direct to the coil. This enhances the flavor and creates a richer vapor.
The dual coil pods are the most popular variant in the much loved SMOK Novo 2 and MTL vapers are going to love the dual coil 0.8 Ohm in the pod. With a convenient side fill system with a rubber stopper redesign, the stopper on the side is now at top and opens downwards, previous pods were the opposite. This should help improve vape juice leakage.
Available in packs of 3 SMOK Nfix pods..
Specifications
DC 0.8Ω MTL Pods (15 - 25W)

SC 1.0Ω MTL Pods (15 - 25W)

Meshed 0.8Ω Pods (10 - 15W)


Compatible with
Package Contents